Recycling & Waste
The Village of Neilburg home owners have three choices
for disposing of wastes.

Curb-Side Garbage Pick-Up
Wednesday Mornings

Freemont Transfer Station (Dump)
5.5 miles East & 1.5 miles South of Neilburg
Recycle Bins
Railway Avenue
East of the Neilburg Vet Clinic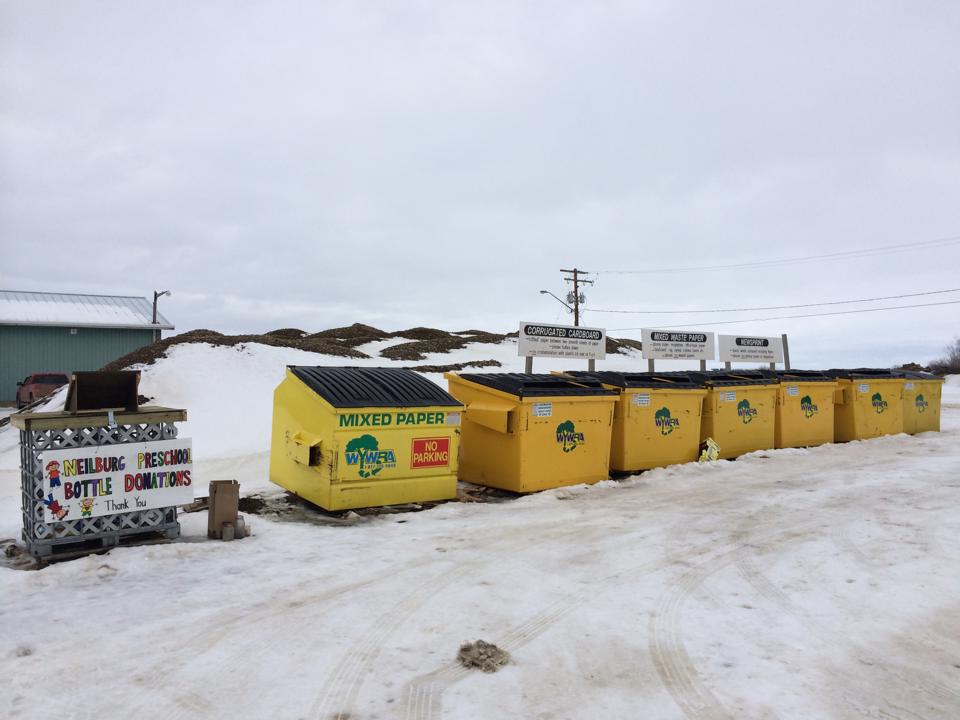 Tag-a-Bag, Curb-Side Garbage Pick-Up
Neilburg provides curbside garbage pick-up for all village residents for $2.00/bag.
Wednesday Morning is when all garbage with an Orange WYWRA tag will be picked up.
Please follow these simple rules:
1. All garbage MUST be bagged and tagged with an orange WYWRA sticker or it will not be picked up.
2. A garbage container is recommended to keep garbage contained until pick-up is made.
Garbage bags must remain intact when pulled from the container.
3. Tags are to be placed on each regular garbage bag (67 litres, 26" by 32").
It is easiest to attach the tag after the bag is tied—either around the tie or prominently on a top surface.
4. The maximum weight of any bag is 20 kg or 44 lbs. If the weight exceeds this limit, two or more bags must be used.
If bags are too large or heavy they will not be picked up.
Orange WYWRA Garbage Tags are $2.00.
You may purchase yours at the Village Office during regular business hours.
RM of Hillsdale No. 440 Transfer Station (Dump)
The Transfer Site is located 5.5 miles East and 1.5 miles South of Neilburg.
You may transport your own garbage bags to the transfer site on Wednesdays and Saturdays.
Hours of Operation
Wednesdays • 9:00 am to 5:00 pm Saturdays • 9:00 am to 1:00 pm
All Garbage bags still require a tag. Green WYWRA Tags are $1.00 plus GST.
These tags are available at the Village Office or the Transfer Station Attendant.
The Transfer Site also accepts larger items that do not fit into garbage bags such as appliances, siding, and furniture, just to name a few.
Uncontaminated compostable material, yard and garden wastes, or unpainted lumber, is FREE!
The Transfer site cannot accept everything, if you are unsure please contact the Village Office.
Receipts will not be issued at the transfer station.
Receipts will be issued at the Municipal Office at the end of each month for payments made over $10.00.
Please visit the Rural Municipality of Hillsdale site to see a list of prices for waste. www.rmofhillsdale.com
Recycle Bins
To Encourage the reduction of waste, Neilburg has recycle bins located on Railway Avenue for the municipality to use.
Please sort your recyclables according to the guidelines that follow.
Newsprint / Mixed Paper / Cardboard
• newspapers, including flyers
• glossy paper and magazines
• construction, bond or office paper
• hard cover and soft cover books
• 'box board' (cereal, tissue, cracker boxes, etc.)
• cardboard
• Please remove windows from window envelopes, all staples and any plastic from tissue boxes, etc.
Flatten all boxes. No plastic bags or strings or waxed paper.
Plastic Containers 1, 2, 4, 5, & 7 and Tin Cans
• Only plastic items with these numbers can be recycled with WYWRA at this time.
• No motor oil or pesticide containers.
• All items must be washed! Remove lids or tops and flatten where possible.
• Wash and remove labels from tin cans before placing in bin.
Neilburg Playschool Beverage Bin
• The Neilburg Playschool has a bin for recycling your beverage containers as a fundraiser. They appreciate your contribution!
These bins are provided for all residents of the Village of Neilburg and RM of Hillsdale No. 440.
Please keep them neat and tidy.
SARCAN
Please use SARCAN Recycling for other items such as electronics, paint, and beverage containers.
Visit their website for more information www.sarcan.ca.
The nearest SARCAN Depots are Unity and North Battleford.